Got to have a lot of fun working on a new line of goods for Jake over at Always on Film.
The pièce de résistance was creating our mascot JJ - THE cat you need to know when it comes to film cameras and intel.
Early on, the character took shape using style cues from cartoons in the late 50s/early 60s like Top Cat, The Pink Panther, Garfield and Yogi Bear. Along the way, we toyed with his posture and setting. At one point, he was a jeweller - surveying each camera as if they were his fine gems 💎 and that's really where the line 'purveyors of film cameras' came from. Which we soon and sure enough pun-ified with the purrrr on purveyors.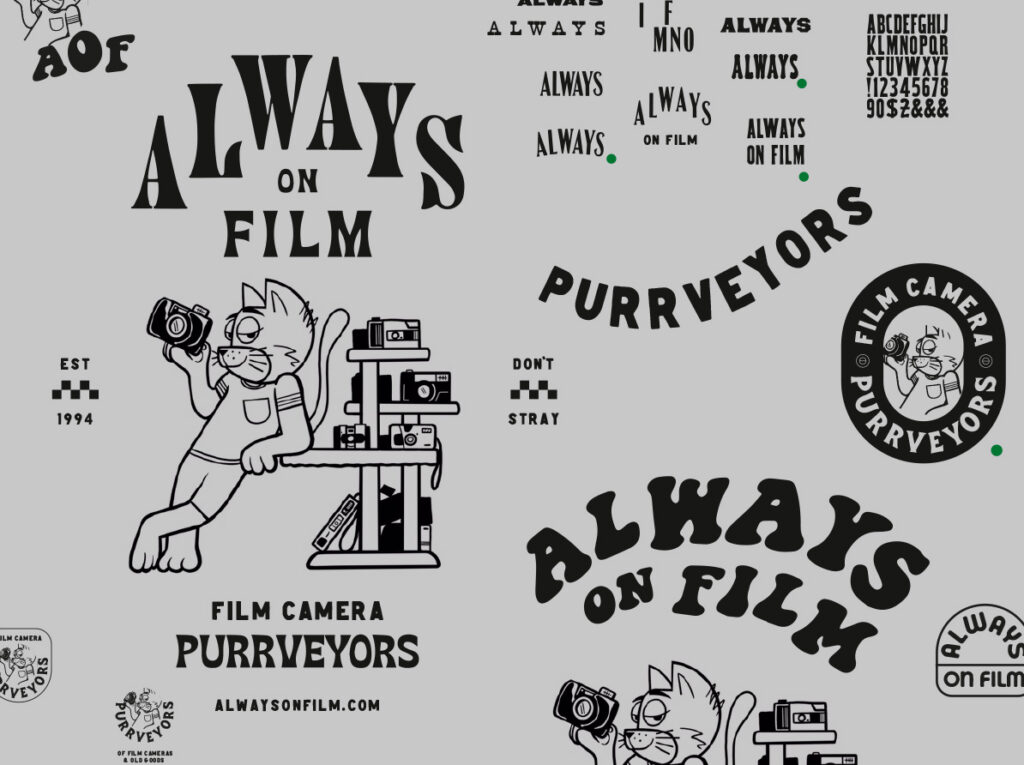 I created the illustration ✍️ in Procreate then transferred to Illustrator for artwork and typesetting. Then dipped between the two tools as I created the pocket and back designs.
Jake and I share a love for diy zines, lettering and tee's anyway so when we got talking about printing and what materials to use - understandably we were excited. And this job had my man, Josh Rones written all over it!
Josh has been printing tees, packaging and prints using his own silk screen setup for a while now. Largely working out of his bedroom and doing fun one-offs for friends or batch jobs for people. He was integral to fine tuning the design, guiding us through bits and pieces and managing the entire print, deliver operation. 👌👌👌 Really made it look too easy.
Stoked how these came out and make a good summer tee.
☀️
Organic Cotton Tees and Tote bags are now available. Buy yours here.
I'm a big fan of the bright yellow!